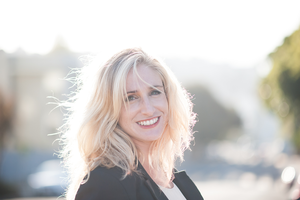 Art isn't something I do; It's an identity.

I'm not sure when I began as an artist. I think it's a lot like sexual orientation; you identify with it early on, but it continues to shift and change throughout your life.

My latest work incorporates sculptural elements onto two-dimensional paintings using clay, similar to reliefs in old European architecture, with the intention to blur the lines between sculpture and painting. Every painting of this series starts as black canvas, then I create shapes and images using colored clay, then seal the clay using a gloss glue. That's then covered with white, unbleached titanium, gold, and silver paint. And finally I add the shimmer. the shimmer represents the shimmer that can be seen over the ocean when the sun is out. I purposely create artwork that cannot be created on a computer or replicated, so every piece is a 

one-of-a-kind original.
 My artwork has featured in gallery group shows, Sierra Madre Art Fair, Art Palm Springs, Gallery 825 in Los Angeles, and a solo exhibit at Brittany Davis Gallery in Ojai. I am currently a continuing member of the Los Angeles Artists Associations (LAAA). 
​​​​​​​